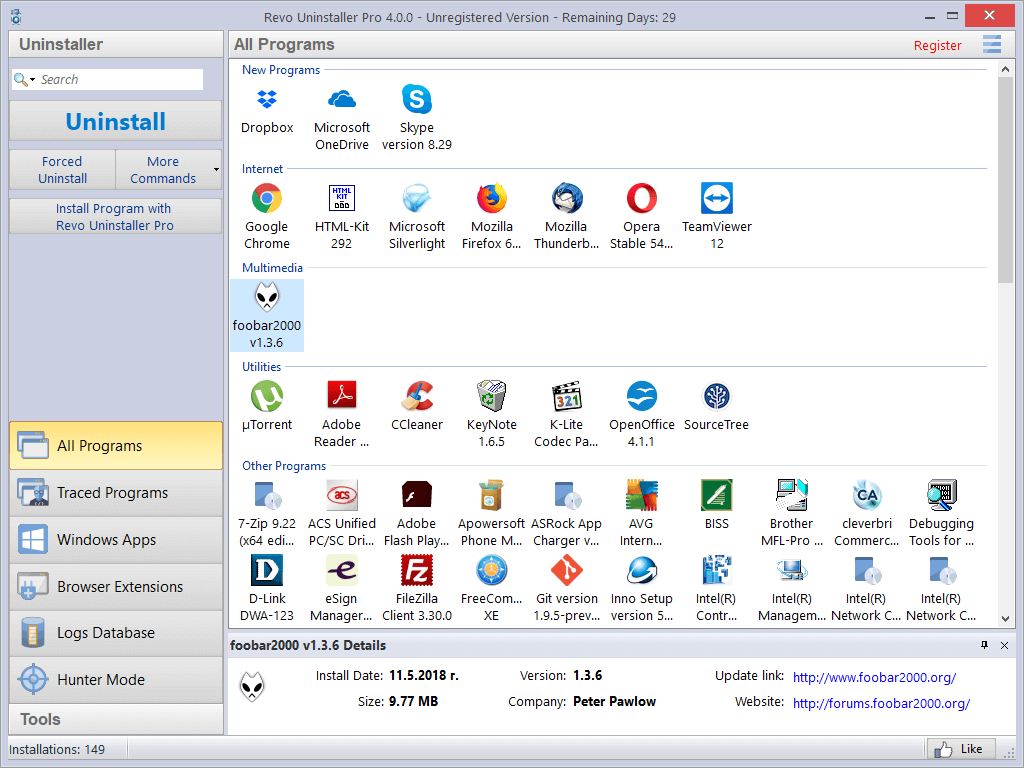 The main window of Revo Uninstaller Pro is divided into a few user interface components. On the left part of the window is the Commands Panel, which is also divided into two parts. The upper part contains the available commands for the currently active tool. The main and most frequently used commands for each tool are shown as separate buttons, all others commands are in the "More commands" button, or in the context menu when right clicking inside the tool window. The lower part of the Commands Panel contains all the tools and modules included in Revo Uninstaller Pro. They are logically separated in two groups – Uninstaller and Tools, and can be switched through a button with that caption located on the lower part of the Commands Panel. Clicking that button loads the buttons for the appropriate group. To open a module, you just have to click its button. Its commands will be displayed above, and its main data window will be loaded in the central part of the entire Revo Uninstaller Pro window.
On the upper right part of the main window of Revo Uninstaller Pro is located the Menu button. It shows a menu with some essential, general commands for the whole program.
At the bottom of the main window is the Status Bar. It may show additional information, depending on the currently active tool/module.
The Description Panel is by default located above the status bar. It shows common information about the active tool. It can be moved by dragging (pressing and holding the left mouse button anywhere in its window). The Description Panel also supports an "auto hide" feature that hides and shows the panel on mouse over. To activate/deactivate the "auto hide" option press the small button with the shape of a pin in the upper right part of the Description panel.
When either the All Programs or Traced Programs module is activated, and the shown list is in Icon or List mode, the Description Panel is used as a Details Panel when an item is selected, thus showing some of the important properties of the selected item.
Keyboard shortcuts
| Command | Shortcut |
| --- | --- |
| Options | Alt+O |
| Hunter Mode | Alt+H |
| Exit | Alt+X |
| All Programs | Alt+U |
| Uninstall | Ctrl+U |
| Quick Uninstall | Ctrl+Q |
| Refresh | Ctrl+R |
| Forced Uninstall | Ctrl+F |
| Install Programs | Ctrl+L |
| Print | Ctrl+P |
| Print Preview | Shift+P |
| Print Setup | Ctrl+Shift+P |
| Traced Programs | Alt+T |
| Uninstall | Ctrl+U |
| Custom Uninstall | Ctrl+C |
| Refresh | Ctrl+R |
| Edit Log | Ctrl+D |
| Install Programs | Ctrl+L |
| Import Log | Ctrl+I |
| Export Log | Ctrl+E |
| Print | Ctrl+P |
| Print Preview | Shift+P |
| Print Setup | Ctrl+Shift+P |
| Windows Apps | Alt+W |
| Uninstall | Ctrl+U |
| Refresh | Ctrl+R |
| Browser Extensions | Alt+R |
| Uninstall | Ctrl+U |
| Refresh | Ctrl+R |
| Logs Database | Alt+L |
| Uninstall | Ctrl+U |
| Custom Uninstall | Ctrl+C |
| AutoRun Manager | Alt+A |
| Run | Ctrl+N |
| Kill | Ctrl+K |
| Add | Ctrl+A |
| Remove | Ctrl+M |
| Disable | Ctrl+D |
| Refresh | Ctrl+R |
| Junk Files Cleaner | Alt+J |
| Scan | Ctrl+S |
| Delete | Ctrl+D |
| Windows Tools | Alt+T |
| Run | Ctrl+R |
| History Cleaner | Alt+C |
| Clear | Ctrl+C |
| Clear All | Ctrl+A |
| Evidence Remover | Alt+E |
| Execute | Ctrl+E |
| Unrecoverable Delete | Alt+D |
| Delete Forever | Ctrl+D |
| Add File(s) | Ctrl+F |
| Add Folder | Ctrl+Shift+F |
| Backup Manager | Alt+B |