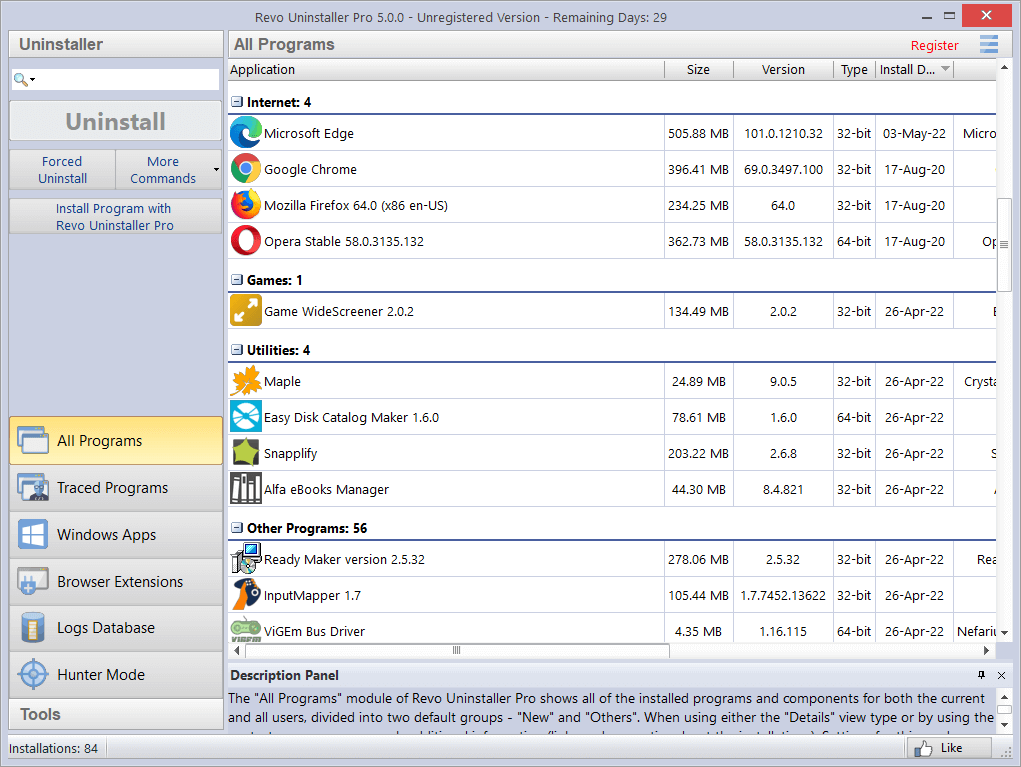 This shows a Details Panel and a Commands Panel divided in two. The upper part shows commands for the active tool (All Programs shown here) with principle commands shown as separate buttons. Others are found inside the More Commands button, or the tool window context menu. The lower part shows 2 groups of modules, Uninstaller and Tools. Clicking on one will switch to the other. To open a module, click its button.
Left click on a column header to sort its contents order. Right click to open a context menu offering the ability to display/hide columns, and to realign their text. Click on the magnifier in the Search field in the Commands Panel, to filter software in real time – by name, publisher, or comment.
The Description Panel informs about the active tool. It can be dragged anywhere in its window. An Auto Hide feature will show the panel only on mouse over. Simply press the small button with the shape of a pin in the upper right corner of the Description Panel.
Dependent upon the module/tool selected, the Status Bar (sited under the Description Panel) may show additional information.
The Menu button is located in the top right hand corner of the GUI. It contains both essential and general commands, including user Options for the whole program.
By default, installed programs are displayed in Details view, as above. System updates and system components can also be displayed, (Menu->Options->All Programs).
NOTE: The Print command in More Commands works only in Details view, and is best in landscape.
Revo Uninstaller Pro can export installed programs to TXT, HTML, CSV, XML and XLS (Microsoft Excel spreadsheet). (More commands->Export List to). You can choose what information will be included in the exported file.
NOTE: To export installed programs to a Microsoft Excel spreadsheet you must have Microsoft Excel installed and correctly working.
Click Refresh in More Commands to resolve any issues with the listing of all installed programs. If this doesn't fix the issue, you may need to rebuild the installed programs data file; (Menu->Options->All Programs) and then click the "Rebuild cache file" command highlighted in blue.
IMPORTANT: Rebuilding the cache file resets any user customization for the program list, so comments, custom icons, and group associations will be removed.
You can assign each program to a group (Menu->Options->Groups Manager) or right click on the program (or Log) to access it's context menu. Both the All Programs and Traced Programs modules share some menu items, whilst others are unique.
Upon first launch of the program, you will be asked to choose between the default/classic or the dark user interface mode of Revo Uninstaller Pro. The user interface colors can be customized separately, either manually or by using predefined themes, with an included Dark Mode (Menu->Options->View->Theme).
Details are explained in the specific Uninstall chapters.
View settings can be customized (More Commands->View) to show a List or Icons.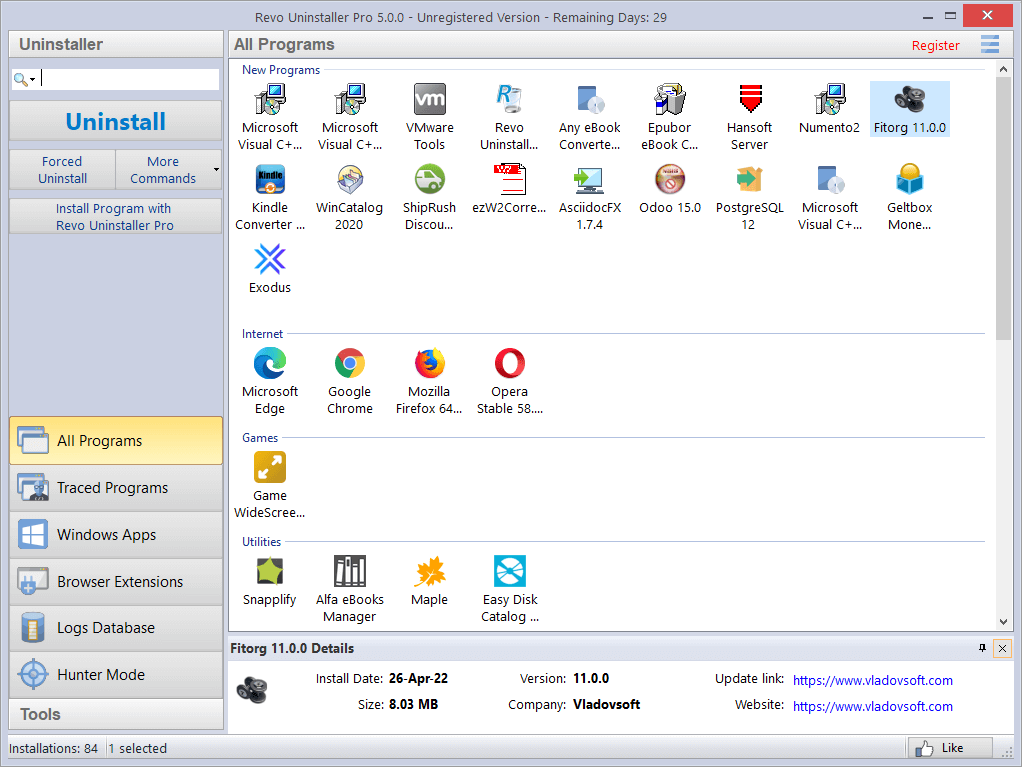 ---
Keyboard shortcuts
| Command | Shortcut |
| --- | --- |
| Options | Alt+O |
| Hunter Mode | Alt+H |
| Exit | Alt+X |
| All Programs | Alt+U |
| Uninstall | Ctrl+U |
| Quick Uninstall | Ctrl+Q |
| Refresh | Ctrl+R |
| Forced Uninstall | Ctrl+F |
| Install Programs | Ctrl+L |
| Print | Ctrl+P |
| Print Preview | Shift+P |
| Print Setup | Ctrl+Shift+P |
| Traced Programs | Ctrl+Alt+T |
| Uninstall | Ctrl+U |
| Custom Uninstall | Ctrl+C |
| Refresh | Ctrl+R |
| Edit Log | Ctrl+D |
| Install Programs | Ctrl+L |
| Import Log | Ctrl+I |
| Export Log | Ctrl+E |
| Print | Ctrl+P |
| Print Preview | Shift+P |
| Print Setup | Ctrl+Shift+P |
| Windows Apps | Alt+W |
| Uninstall | Ctrl+U |
| Refresh | Ctrl+R |
| Browser Extensions | Alt+R |
| Uninstall | Ctrl+U |
| Refresh | Ctrl+R |
| Logs Database | Alt+L |
| Uninstall | Ctrl+U |
| Custom Uninstall | Ctrl+C |
| AutoRun Manager | Alt+A |
| Run | Ctrl+N |
| Kill | Ctrl+K |
| Add | Ctrl+A |
| Remove | Ctrl+M |
| Disable | Ctrl+D |
| Refresh | Ctrl+R |
| Junk Files Cleaner | Alt+J |
| Scan | Ctrl+S |
| Delete | Ctrl+D |
| Windows Tools | Alt+T |
| Run | Ctrl+R |
| History Cleaner | Alt+C |
| Clear | Ctrl+C |
| Clear All | Ctrl+A |
| Evidence Remover | Alt+E |
| Execute | Ctrl+E |
| Unrecoverable Delete | Alt+D |
| Delete Forever | Ctrl+D |
| Add File(s) | Ctrl+F |
| Add Folder | Ctrl+Shift+F |
| Backup Manager | Alt+B |