HOW TO USE HUNTER MODE
Hunter Mode is an innovative and flexible method of interactively selecting a program that you want to uninstall, disable from automatically starting with Windows, end its process, etc.
Start Revo Uninstaller Pro, and click the Hunter Mode button in the lower left corner.
This will minimize the main window to the system tray, and instead will display a rectangular target icon (by default in the upper right part of your screen).

Grab that icon (press and hold the left mouse button over it), then drag it over the window or icon that belongs to the program you wish to manage.
While dragging the Hunter Mode icon over various objects, you will see basic information about them in a text box.
When you have a program window or icon in sight, drop the Hunter Mode icon (by releasing the mouse button).
You will see a menu with available options.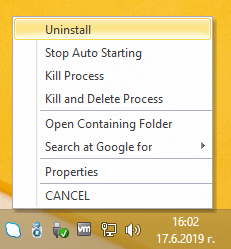 Note: if you wish to re-position the Hunter Mode icon on your screen, you can do that by dragging it using the middle mouse button.
You can also check out our video tutorial on how to use the Hunter Mode.